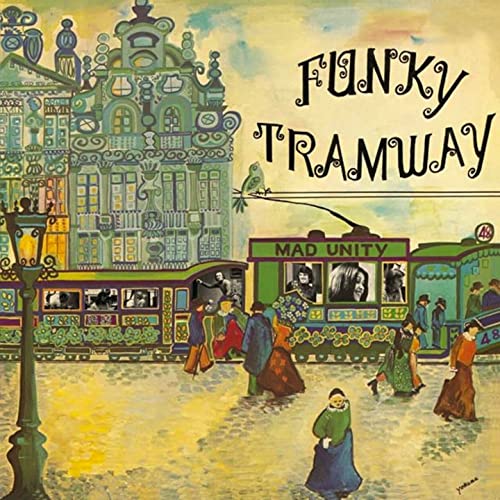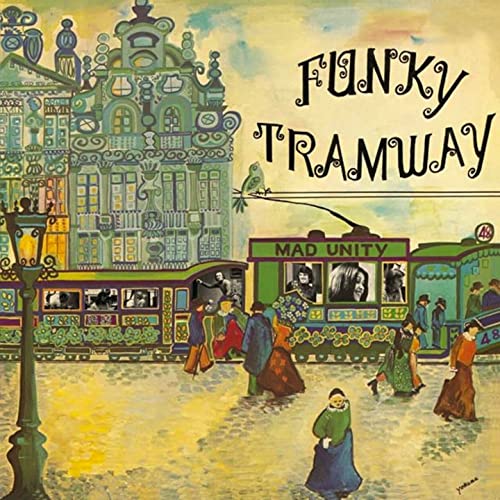 Janko Nilovic (Mad Unity)-Funky Tramway LP, Underdog Records, UR825691
by Janko Nilovic
€22.00 / Sold Out
In cooperation with Underdog Records, Discom distribution presents you an archive masterpiece: Janko Nilovic (Mad Unity)-Funky Tramway LP,
Janko Nilovic is probably the most intriguing jazz/funk/soul/psych artists with Yugoslavian origins. Born in Istanbul, Turkey in 1941 from Montenegrin father and Greek mother, he spent the most of his life in France where he composed a fascinating number of pieces which were published on library labels not available for sale. He says that he has recorded at least 150 albums and maybe even twice using different pseudonymous: Alan Blackwell, Emiliano Orti, Johny Montevideo, Andy Loore, Heinz Kube, Bill Mayer, Ennio Morandi, Phillipe Gray, The Texas Travellers and more. He is still very active and composing in all the styles as he used to (classical, pop, jazz, funk...). In 2010 Nilovic won a Grammy award for the Jay-Z's track D.O.A.(Death of Auto-Tune), his songs was sampled by Dr. Dre, No I.D and many others.
Funky Tramway by his Mad Unity band is often considered to be one of the rarest and most well developed of Janko Nilovic's records. Yet, apart from a few already compiled tracks and enthused descriptions on the web from lucky record hunters here and there, little was actually known about this opus which only made its way into the hands of lucky or enlightened collectors. The first listen comes as quite a shock: "Funky Tramway" impresses from the start with its maturity, the richness of its musical architecture and its mystical spirit.
The sound and production differ notably from records previously released on Montparnasse 2000, Telemusic, or Neuilly as the album was recorded in Belgium with excellent local musicians (including Dan Lacksman from the group Telex). The tracks take on a real cosmic dimension thanks to the judicious use of backing vocals and synths. Compositions oscillate between Placebo-style organic jazz funk (the sublime Funky Tramway, Sitting Bull, and Gipsy Funk), slow lysergic deviations (Flemish Suite, Atomium 82), psychedelic incantations (Underground Party), cubist and dada funk (Disconnected Song, Fish Market) and unexpected rock misdemeanours (Pis Rock). Hiding behind its beautifully naive sleeve (painted by the composer's wife) lies a great record which dares to wager an exciting and rebellious fusion, delectably playing with the codes. A compendium which brings the entire career of the Yugoslavian composer into perspective.
Review was taken from Phonice Records, London, UK.
https://www.phonicarecords.com/product/janko-nilovic-funky-tramway-lp-underdog/143839
Tracklist:
A1 Funky Tramway
A2 Flemish Suite
A3 Sitting Bull
A4 Underground Party
A5 Manneken-Pis Rock
B1 Gipsy Funk
B2 Atomium 82
B3 Disconnected Song
B4 Little Butcher's Street
B5 Fish Market
Credits:
Composed By, Arranged By, Keyboards, Percussion, Vocals-Janko Nilovic
Bass Guitar, Vocals-Pino Marchese
Drums, Percussion, Vocals-Jean-Pierre Onraedt*
Engineer (Recording)-Roland Leclercq
Guitar (All Guitars, Hi-fly Sinthi]), Vocal-Nick Roland
Illustration (Cover)-Yohana
Keyboards (All Solos)- Koen De Bruyne
Producer-Mad Unity
Synthesizer (Moog)-Dan Lacksman
Trumpet-Gerard Sabbe
Trumpet (Elec. Trumpet)-Richard Rousselet
Vocals- Patricia Maessen
Recorded At Studio Madeleine (Brussels)
Publish By Underdog Records, 2017