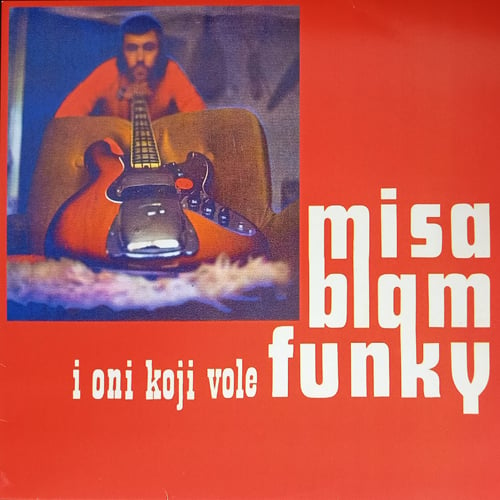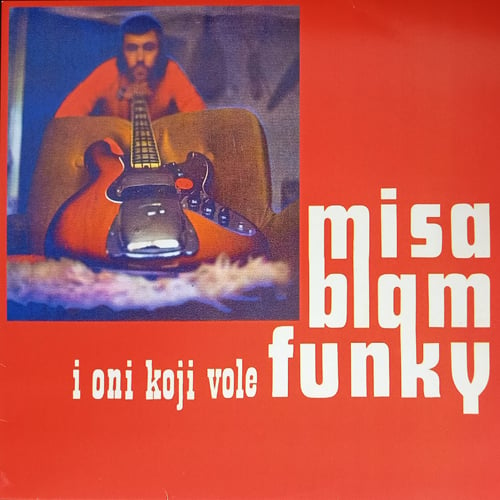 Misa Blam-Misa Blam I Oni Koji Vole Funky, 12", 45 RPM
by Misa Blam
€25.00 / Sold Out
After a long break, finally we have a new release and a pretty interesting one: official edition of the group who pioneered jazz-funk in the former Yugoslavia: Misa Blam i Oni Koji Vole Funky! This 12" record on 45 RPM contains three songs from impossible to find EPs from the 70's and one fantastic previously unpublished track !
Mihailo "Misa" Blam (December 15, 1947, Belgrade, Yugoslavia - June 19, 2014, Belgrade, Serbia) was a Yugoslavian, Serbian and Jewish jazz musician (double bass player, arranger, composer), concert producer and publicist. Leaving a career in classical music (he was the only Yugoslavian musician who played in Berlin Philharmonic Orchestra conducted by Herbert von Karajan), he achieved a significant musical career as a jazz bassist- double bass player in New York, Munich, Israel, Dominican Republic, and Uganda (in Ini Amini's court) and in Yugoslavia He played with Chet Baker, Frank Mantooth, Clark Terry, Ernie Wilkins, Alvin Queen, Hannes Beckmann, Tony Scott ... During the period between 1982 and 1999, he has been involved in 16 recording sessions in the field of jazz. Under his own name he published the EP ''Misa Blam I Oni Koji Vole Funky'' (Diskos), 1975, LP album ''Secanje", (Beograd Disk) 1979, and cassette ''Good Old YU Days" (1993).
The record opens with a song called "Dobro Jutro " (Eng. Good Morning), a track you will get in love with when you hear the opening 4 bars with Misa's bass funky licks and Slobodan Markovic's incredible ARP Odyssey riffs. Effective drums breaks, well structured electric piano solos and consistent funky rhythm-a good old 70's jazz funk production.. In the same groove we continue in לילה טוב eng. (Eng. Good Night), a song which is releasing here for the very first time. Two new instruments appear: congas and guitars developing the initial groove and enriching the sonic landscape. This progression is even more exciting in the next song "Laku Noć" (also means Good Night) when the magical sounds of ARP Odyssey and it's percussion responses are added to the same rhythmic pattern. However, the groove culminates in the final song "Gorila" (eng. Gorilla) on B side, a fantastic playing by a group which shows off its lavish talent in full color: finest drumming in tandem with smooth Fender jazz bass figures, fulfilled with five amazing solos: on tenor saxophone, guitar, electric piano, Wah bass and inevitable ARP Odyssey at the end! A gig that could easily open the performance of some of the jazz rock giants such as Billy Cobham & George Duke Band on Montreux Jazz Festival in 1976 for instance.
Those who are not familiar with rare jazz funk groove records from Eastern Europe, will welcome this album with surprising enthusiasm and admiration. Others will enjoy the quality sound of the 45 RPM record which is cut directly from original master tapes and appreciate that they can finally afford the gem they have searched for years. We will be pleased to point out the contribution that this fantastic group has made to world's jazz-rock. For the archive and for the future!
Review: Vanja Todorovic, Luka Novakovic
Tracklist:
A side:
1. Dobro Jutro
2. לילה טוב
3. Laku Noc
B side:
1. Gorila
Credits:
Misa Blam: Fender jazz bass+Wah;
Slobodan Markovic: ARP synthesizer;
Josip Bocek: Gibson electric guitar;
Jelenko Milakovic: ARSA drums;
Milenko Prodanovic: Rhodes electric piano;
Radivoje Radivojevic: Wurlitzer piano+Roland synth;
Nikola Stefanov: Selmer tenor sax
Music: Misa Blam (A1, A2), Slobodan Markovic (A3, B1);
Design: B. Milakovic;
Executive production, redesign, distribution: Vanja Todorovic, Luka Novakovic
Analog lacquer cutting: Moritz Illner, Duophonic GmbH, Augsburg; Pressing: Soulpeddler GmbH, Duisburg, Germany
Recorded in Belgrade, Yugoslavia 1976.
This record represents an official release of Misa Blam i Oni Koji Vole Funky, the group which pioneered jazz-funk in the former Yugoslavia. Track לילה טוב has been previously unpublished. Cut directly from the original master tapes which are now in possession of Markus Blam, the son of Misa Blam.
Dedicated to the memory of Mihailo Misa Blam (1947-2014).
© 2021 Discom, Markus Blam, Slobodan Markovic all the rights reserved.