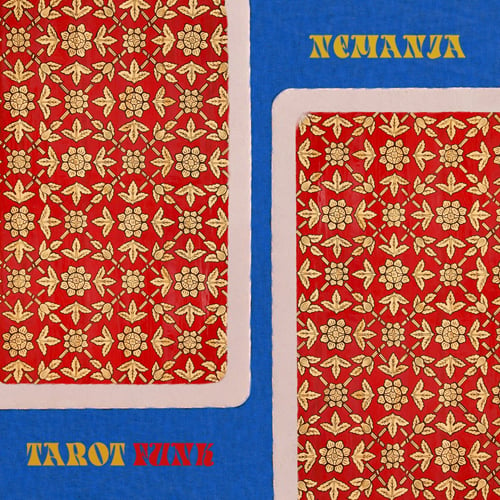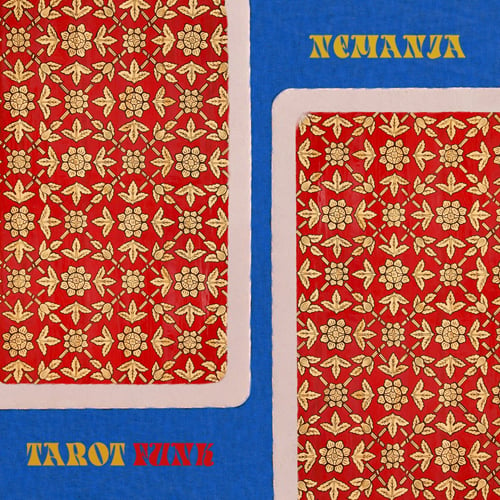 nemanja-Tarot Funk LP, Ammonite Records AR013
by nemanja
€20.00 / Sold Out
Another Ammonite Records's release which strongly relies on musical tradition: this time we go to psychedelic sounds of eastern funk mixed with esoteric teachings of Tarot! As it is said in the official band's press release: "Tarot funk" is an album that blends the symbolism of Tarot with the musical heritage of the '70s Anatolian rock, Thai funk, Cambodian psych-rock of the '60 s, Dub and Afro-funk in one eclectic new genre called - Tarot Funk!
The album was made by a band called "nemanja"(name origins from Slavic with the meaning "without possessions''), a project of a young Croatian artist from Pula, Luka Sipetic whose guitar style resembles famous Anatolian guitar player Erkin Koray. As the artist himself explains: "The idea behind the name is to establish a "false identity" that has no ego and no preconceived musical language. Only without a desire to create something and with no ego in the way, one can truly listen to the music of the world and express and transform his soul as he pleases. It's contradictory, but I think music, like alchemy, should be a process of self-discovery. By ''not having'' something or ''without possessions''', I am not tied to anything so I can move freely through the music". Such attitude and one occasion when Luka was repairing his guitar to get more versatile sounds (his father was also a guitar player, the member of Gipsy Kings) led him towards exotic sounds of electric saz, Japanese koto and those lo-fi guitar sounds that can be found on the records of Cambodian artists like Pan Ron or Sinn Sisamouth. Soon, after reading the book "The Castle of Crossed Destinies" by Italo Calvino in which passengers of the mystical castle are trying to communicate with each other through the Tarot cards, Luka found the way how to tell his story and connect it with the sounds which obsessed him.
Each song on "Tarot Funk" is written for one specific card, 9 songs for 9 cards, combining music with Tarot's symbolism throughout the tracklist, with the purpose of creating a narrative that every listener may interpret for himself. The songs have no words because the cards are the words. Set together, music and cards are referring to the full series of events that had occurred in the artist's life. Cards are rich with their fixed meanings while telling the story, but they can fluctuate too, depending on a person and the music amplifies that aspect. While listening to music and studying the cards, people may create their own meanings of these events, finding patterns in their own life.
With such idiosyncratic concept and deep and versatile explorations of exotic sounds, this album is meant for those who enjoy discovering distant musical landscapes. It will bring you back to the glorious days of Psychodelic from the late 60s and early 70s, but not in the most common way. To quote one of the most original artists in the history of music, Frank Zappa: "A mind is like a parachute. It doesn't work if it is not open." This album is a trigger that will pull out your parachute.
Review by: Luka Novakovic, Vanja Todorovic using the band's official press release and nemanja's interview for It's Psychodelic Baby Magazine
https://www.psychedelicbabymag.com/2019/09/nemanja-interview.html
Tracklist:
A1 The Fool
A2 The Hanged Man
A3 Lovers
A4 The Wheel Of Fortune
A5 The Tower
B1 Death
B2 Justice
B3 The High Priestess
B4 The World
Credits:
Music performed, recorded, produced and mixed by Luka Šipetić
Mastering by Luka Čapeta
Vocals on "The High Priestess" by Nikol Ćaćić
Flute and soprano saxophone on "The High Priestess" by Leo Beslać
Lyrics on "The High Priestess" inspired by poetry fanzine "Pleši,griješi" by Dora Tominić
Cover Art by Dino Santaleza (Vila Propuh Studio)
Special thanks to Nikol Ćaćić, Leo Beslać, Luka Čapeta, Dino Santaleza, Noemi Ribić, Dora Tominić, Marijan Jelenić and Lea Šipeti
Recorded in January 2019. in a country house outside Pula, Croatia
"The World" Official video by Noemi Ribić
www.youtube.com/watch?v=sQknxeVFnsw
© 2020, Ammonite Records, Luka Sipetic, all rights reserved