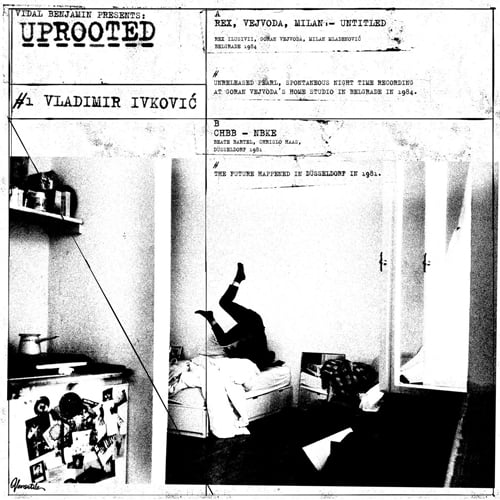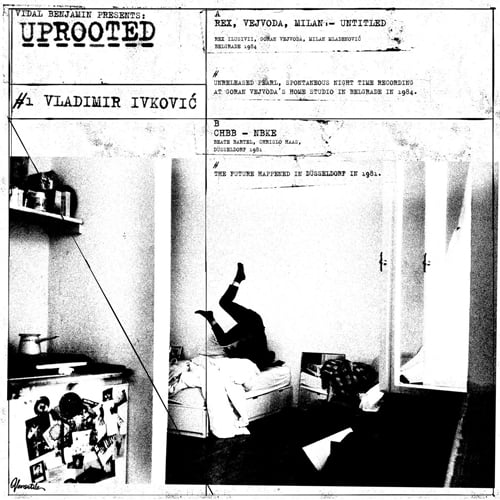 Rex Ilusivii, Goran Vejvoda, Milan Mladenovic/CHBB-Untiteld/NBKE 7"
by Rex Ilusivii , Goran Vejvoda , and Milan Mladenovic ,
€17.00
ALERT! An unreleased '84 REX ILUSIVII piece + a near mythical CHBB (Liaisons Dangereuses) track from 1981 on an essential 7". FIRE!
"From Belgrade to Düsseldorf, uprooted or not, I compiled 2 tracks from my 2 cities. Tracks that were always meant to be released on one 7".
On the Belgrade side there are Rex, Vejvoda, Milan. Rex Ilusivii, Goran Vejvoda and Milan Mladenović.
Summer of 1984, a short nighttime session on an improvised 4 track 1/4¨ tape studio setup in Goran's parents small living room in Belgrade, Yugoslavia.
Three young men getting away from their dry intellectual framework at the tail end of the influence of "My Life in the Bush of Ghosts". Maybe. Maybe not. A recording that should not exist, from the city that does not exist, from the country that could have shown the world how a melting pot can blend and stick together, no matter how countless obstacles lay ahead.
On the Düsseldorf side there is CHBB. Chrislo Haas (DAF) and Beate Bartel (Einstürzende Neubauten and of Mania D). One track from the first of their four tapes, recorded and self-released in Düsseldorf in 1981. Rough powerful electronics with attitude, the future that happened more than 40 years ago and that is yet to come. "
Vladimir Ivković
Uprooted is a project curated by Vidal Benjamin. Under the wing of Versatile Records, he has decided to launch a collection of double-sided limited edition, vinyl only, celebrating the duality of people who take their roots from a place and embrace another culture.
The idea is to ask an appreciated music activist with a double cultural pedigree to choose two tracks. For Volume 1, the invitation went out to Vladimir Ivkovic (Offen)